Recycling in Michigan is at an all-time high, state environmental leaders announced today during 'Recycling State of the State' virtual press conference coinciding with Earth Week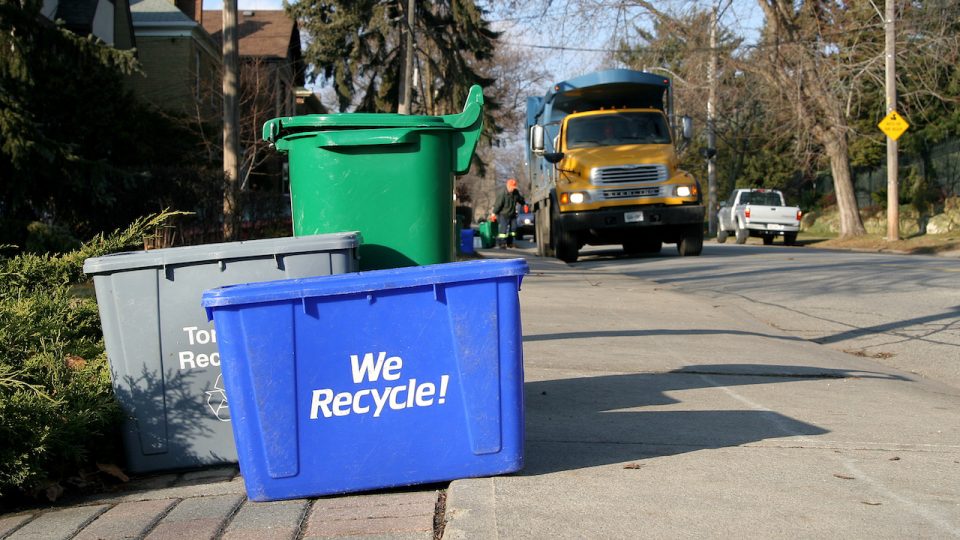 Materials Michiganders recycled last year would fill the football stadiums at Ford Field, Michigan State University's Spartan Stadium and the Big House at the University of Michigan
EGLE also announced today record-setting $15.6 million in recycling infrastructure grants to communities, non-profits and businesses across the state, including funding support for major new projects on tap in Detroit, Flint, Greater Grand Rapids and Alpena
Lansing, Mich. – Recycling in the Great Lakes State is now at an all-time high, leaders with the Michigan Department of Environment, Great Lakes, and Energy (EGLE) announced during a virtual "Recycling State of the State" press conference that coincides with today's start of Earth Week 2023 (April 17-22).
The total amount of residential recycled materials being reported for fiscal year (FY) 2022 was 620,494 tons – that's over 66,000 tons more than the previous new record set the year prior. Materials Michiganders recycled last year would fill the football stadiums at Ford Field, Michigan State University's Spartan Stadium and the Big House at the University of Michigan. Michiganders recycled over 339,000 tons of paper and paper products during FY 2022, more than 154,000 tons of metals, more than 71,000 tons of glass, and over 45,000 tons of plastics and plastic products.
"We can all be proud that Michiganders are recycling now more than ever before," EGLE Environmental Justice Public Advocate Regina Strong said this morning. "This equates to every person in Michigan recycling 124 pounds each year of cardboard boxes, milk cartons, soup cans, plastic bottles, glass bottles and jars, food waste, and other recyclable materials."
In addition, EGLE today announced a record-setting combined total of nearly $16 million in grants through public-private partnerships including funding support for recycling infrastructure investments to help advance projects in Detroit, Flint, Grand Rapids and Alpena.
Strong was joined at the online news conference by Flint Mayor Sheldon Neeley; WM (formerly "Waste Management") Great Lakes Area Vice President Aaron Johnson; Kent County Department of Public Works Director Darwin Baas; Detroit-based VMX International Founder and CEO Vickie Lewis; Alpena Mayor Pro-Tem and Northeast Michigan Materials Management Authority Chair Cindy Johnson; and, EGLE Recycling Market Development Specialist Matt Flechter.
"This tremendous accomplishment in our recycling activities and infrastructure investments represent a bipartisan effort in a historic partnership with Gov. Gretchen Whitmer and the Michigan Legislature in combination with the nonprofit sector and business community that Michigan has never seen happen before," Strong said.
"Equally important, EGLE and the Whitmer administration are introducing new opportunities to promote recycling, help support our climate change goals, and create new jobs in communities that have been historically underserved by our state," she said.
EGLE data show more Michiganders than ever – 75% of the state's population – have access to recycling services. Since 2021, EGLE in collaboration with national nonprofit The Recycling Partnership have rolled out 48,468 new curbside recycling carts to communities around the state.
The expanded access is helping Michigan to steadily increase its recycling rate from what was historically the lowest in the Great Lakes region. The rate has risen from 14.25% prior to 2019, to 19.3% last year and now exceeds 21%, based on EGLE's new 2023 analysis.
EGLE's total allocation of $15.6 million in 2023 grants across the state is more than Michigan has ever invested in recycling infrastructure and technology, more than doubling last year's record $7 million of investments. Recycling, reuse, and remanufacturing industries in Michigan create 72,500 jobs and contribute more than $17 billion to the state's total economic output, EGLE data shows.
The funding is part of EGLE's strategy to support recycling infrastructure, improve the quality of recyclable materials, and promote market development using the Renew Michigan Fund, which the Legislature created in 2019 to bolster the state's recycling efforts. Gov. Whitmer and the state Legislature are committed to raising Michigan's recycling rate to 30% by 2029 and, ultimately raise it to 45%, exceeding the national recycling rate of 32%.
EGLE's 2023 data analysis reflects the state's improved recycling performance is helping Michigan advance toward the goals of the MI Healthy Climate Plan, commissioned by Gov. Whitmer as a broad-based roadmap to a sustainable, carbon-neutral Michigan economy by 2050. Carbon neutrality is the global science-based benchmark for reducing greenhouse gas emissions to avoid the most devastating and costly impacts of climate change.
"These strategic investments by EGLE reflect the commitment of communities across Michigan to finding modern and scalable solutions across our entire recycling system," EGLE's Flechter said.
"It's critical that EGLE continue to work together with the Michigan Chamber of Commerce, our partners in the Michigan Legislature, the private sector, nonprofits like The Recycling Partnership, and at the federal and local levels to ensure we achieve our state's goals for sustainable operations," Flechter said.
Recycling infrastructure projects EGLE touted during today's press conference include:
The new, state-of-the-art $35 million recycling processing facility WM (formerly known as Waste Management) is planning in Detroit, which has received a $465,000 EGLE grant. WM-commissioned research shows Detroit is one of five cities in North America that need capacity expansion and there is growing demand. WM plans to process up to 40 tons per hour and expects to receive recycled materials from residential, industrial and commercial properties. Upon completion, the WM facility in Detroit will be the largest of its kind in Michigan. This is a true hub and spoke model intended to open new opportunities for recycling across Michigan. Once opened, WM's next steps will be to activate existing transload facilities in places like Traverse City, Kalamazoo, Tawas, Saginaw, Lansing, which will unlock the potential for curbside single stream recycling for residents. Outside the major metropolitan areas in Michigan today, most businesses only have the option for cardboard recycling. With WM's new hub and spoke approach, all businesses will have the option for single-stream recycling.
The City of Flint is receiving a $1 million EGLE grant that Flint Mayor Sheldon Neeley says will go toward providing all 34,000 households in the city with a free 96-gallon recycling cart. The national nonprofit The Recycling Partnership is also pledging to support the new cart project with a grant of up to $3.3 million in additional funding for Flint. The city's current recycling program requires the resident to provide their own bin to contain recyclable material at the curbside. Currently, most of the bins being used in Flint do not have lids and the fly-away material is a concern for a city that is fighting blight. The new carts are projected to increase the amount of materials recycled in Flint from 624 tons per-year to 5,400 tons per year, as well as improve resident participation and enhance safety for sanitation workers.
The Kent County Department of Public Works (DPW) $350 million future Sustainable Business Park in Kent and Allegan County. The Sustainable Business Park, planned for 250 acres adjacent to the South Kent Landfill in Byron Center will be built on land initially purchased by Kent County to create a new landfill. The $4 million in EGLE funding will go toward infrastructure improvements such as utilities, roads and stormwater to prepare it for tenants.
The Kent County DPW also received a $499,999 EGLE grant to purchase baler equipment to direct-bale old corrugated cardboard at its North Kent Transfer Station. That will eliminate the cost of transporting the old cardboard to be processed. The DPW is leveraging EGLE's grant with $385,001 in federal funds to complete the $885,000 acquisition and installation in the existing transfer station building that is being converted to a recycling dropoff facility. The new dropoff site will improve recycling access, reduce double-handling of residential recyclables and reduce operational costs for residential and commercial recycling at the North Kent Station.
And, the Kent County DPW was awarded a $406,000 EGLE grant to help buy new robotic sorting equipment to automate line sorting at its Recycling & Education Center, which processes recyclable materials from the greater West Michigan area. Kent County's DPW is leveraging the EGLE grant with $174,000 in federal funding to complete the $580,000 purchase. The state-of-the-art technology will address both chronic staffing shortages and the rising cost of temporary labor as well as improve workplace safety and enable DPW staff to more efficiently process residential recyclables. DPW projects the return on investment and cost savings will effectively pay for itself within 12 months or less.
Alpena County has received a new $2.7 million federal grant supported by EGLE and championed by U.S. Sen. Debbie Stabenow that will help fund its proposed new $5.4 million regional dual-stream material recovery facility (MRF). The new facility will process recyclables from Alpena County and Northeast Michigan. Proponents say the project, which received a $1 million EGLE grant last year, will serve as a model for rural recycling throughout Michigan and the United States. The new MRF will provide the capacity and capability of bringing materials from a six-county area, the majority of which is destined for landfill, to a processing facility where recyclable material will be sorted and sold to Michigan manufacturers for use as recycled content in their packaging or products.
Detroit-based VMX International is the recipient of a $100,000 small business development grant from EGLE. VMX is an environmental firm headquartered in Detroit that works with businesses across the nation to properly recycle and dispose of items ranging from office paper to batteries. The EGLE grant will support VMX's plan to build a new $50 million lithium-ion battery recycling facility headquartered in the City of Detroit. VMX expects to create 50-75 new high-paying, high-tech jobs and the building is tentatively slated to open in 18-24 months. The state-of-the-art facility will separate, dismantle and shred materials utilizing innovative technology to recycle lithium-ion batteries by separating out the rare earth materials from the old batteries VMX collects to be brought back into the loop for manufacturing new lithium-ion batteries, creating a circular economy.
The results announced today come from a more than four-year review of statewide data by EGLE researchers that aligns with the 2019 launch of EGLE's national award-winning "Know It Before You Throw It" recycling education campaign featuring the Recycling Raccoon Squad. The campaign's aim is to increase recycling and promote best practices to reduce contamination of materials with unsuitable or non-recyclable items in recycling bins and at drop-off sites. EGLE data show four in five Michiganders report taking action and changing their recycling behavior for the better following EGLE's campaign.