Company hires veterans to fashion products out of automotive material destined for landfill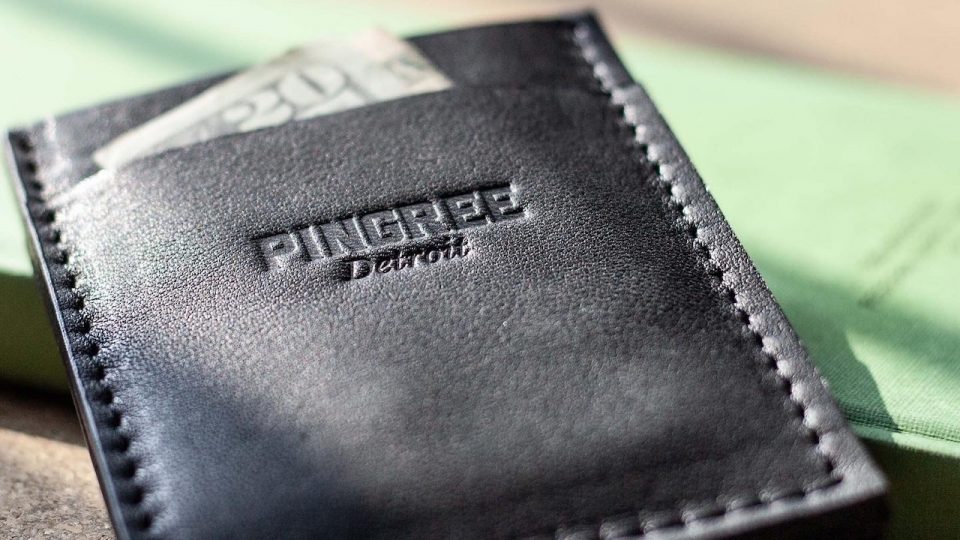 All Jarret Schlaff really wanted to do was create meaningful employment for Detroit military veterans.
He accomplished that with Pingree Detroit, the company he founded in 2015, but he also wound up creating something that helps the environment.
"We're a social impact cooperative," Schlaff said of his business, which keeps automobile materials such as leather, seat belts and airbags out of landfills. "We prioritize people, planet and profit."
Pingree Detroit, now based at 15707 Livernois, initially made tote bags with repurposed car leather while sharing space with Anew Life Prosthetics in Detroit in 2017. Eventually, seat belts and airbags were added to the raw material mix, expanding Pingree's product line. It now also handcrafts home goods, sneakers, dog leashes, backpacks and wallets.
"We're a worker-owned design and manufacturing company that's zero waste and carbon negative," Schlaff explained. "And we share 77% of the profit with the workers and the neighborhood where we're based."
Pingree is also earning praise from Michigan environmental officials. They cite the company as a shining example of how household and other types of recycling not only help the planet by reducing waste and greenhouse gas emissions that cause climate change, but also boost the economy.
"It can be much more efficient and cost-effective for manufacturers to reuse materials that have already been made than to start from scratch," said Tracy Purrenhage, recycling specialist for the Michigan Department of Environment, Great Lakes, and Energy (EGLE).
"For example, it takes far less energy to melt down and reuse a glass bottle than it would to make a whole new glass product out of sand. That makes the economy more efficient and allows manufacturers to keep the price of their products as low as possible."
EGLE was so impressed by Pingree's business model that it awarded the company a $10,000 Recycling Market Development Grant. Pingree also was accepted into the EGLE-led NextCycle Michigan program, which supports companies in their recycling, recovery and reuse initiatives.
Creating American jobs
Pingree's products are fashioned from the scrap that automakers and suppliers have left over from their production and research-and-development activities. The material is either donated to Pingree or sold to the company at below-wholesale prices, Schlaff said.
"These are world-class materials designed for performance, longevity and to be lightweight," he said. "They're everything you want in a material."
Schlaff, who grew up in Waterford and Pontiac, has lived in Detroit since graduating in 2010 from Oakland University, where he earned a bachelor's degree in public administration and public policy while also pursuing environmental and business studies.
But despite his environmental background, which also included interning for a year in what was then called Michigan's Office of Pollution Prevention, he wasn't necessarily looking to start a recycling-based business when he formed Pingree.
Rather, he was primarily trying to assist Detroit veterans after randomly having conversations with a couple of them who were facing adversity.
"I didn't start the company with a product in mind," Schlaff said. "I started it with wanting to make an impact. These guys were about my age, and I told my buddy that someone should do something about this. Then it dawned on me that that someone could be me."
He then had a series of conversations with people in the community about how best to aid veterans.
"The answer to those questions was that folks were looking for gainful, living-wage work where they could work with their hands and be part of a purpose-driven environment again," he said.
And thus, after further consideration of exactly what the company should make, Pingree Detroit was born.
"Once we landed on a product, the immediate question was, how can we make something sustainable that changes the conversation?" Schlaff said. "My passion is offering sustainable solutions. That's my purpose for being here. And so when we landed on a product, immediately the mind went to, what waste stream can we use, and how can we offer something in the market?"
The company's 10-person workforce consists of Detroit residents, including veterans, some of whom live within five blocks of its manufacturing facility.
For those new to the trades, Pingree underwrites the cost of an eight-week training program in either industrial sewing, leather crafting or shoemaking.
Every product comes with a "maker tag" bearing the name and picture of the veteran or Detroiter who handmade that Pingree piece. Every worker also gets a share of every dollar of profit.
Pingree products are available for purchase on its website, pingreedetroit.com, which also lists retailers that stock them.
So far, Pingree's products have diverted 17 tons of car seat and steering wheel leather from landfills.
"If we can avoid the economic costs of contributing to climate change while creating jobs and creating American-made alternatives to those that are made in China from nonrecyclable materials," Schlaff said, "we just see that as a winning strategy."